[W]hen I started Bird Rock Coffee Roasters in 2002, I was more concerned about learning to roast coffee and make a proper cappuccino than I was about using eco-friendly products (for our retail outlet). When we finally opened a storefront in 2006, it became clear we needed to become more environmentally sustainable. Once I realized how much trash we produced and that customers were starting to demand more environmentally sensitive products, we began our quest to be more sustainable.
It was not without missteps.
The easiest and obvious changes happened in the back-of-the-house. Setting up a recycling container for weekly removal significantly cut our waste since every piece of packaging—cups, bags, plates—arrives in cardboard boxes that would otherwise end up in a landfill. Operating out of Southern California, a state regularly plagued by droughts, we are also very sensitive to water use.  Simply replacing our faucet with a dishwashing hose in our three-basin sink made it impossible for employees to leave the water running.
Operating out of Southern California, a state regularly plagued by droughts, we are very sensitive to water use.
After opening we discovered home gardeners were interested in our spent coffee grounds, and we enacted a bucket exchange program. Customers simply drop off empty five-gallon buckets in our parking lot and take buckets that are full of spent grounds. This keeps several pounds of waste out of our garbage daily and contributes to a prettier neighborhood full of happy roses and palms. We work with local farmers who pick up our chaff from the roaster to use as a soil amendment. It also works very well in chicken coops.
The front-of-house, however, required a bit more trial and error. Soon after we opened we set out to find a to-go hot cup that was compostable or recyclable, preferably both. In 2006 there were few options, but we tried everything we could get our hands on before settling on a compostable hot cup. The only problem with this cup was that it started to decompose while there was still coffee in it. Oops! We fielded numerous customer complaints about the cup leaking at the side seam after only fifteen minutes. So we switched brands.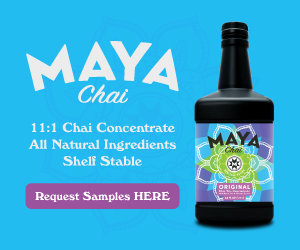 Our next cup did not decompose in a customer's hands. But unless the baristas put the lid on just so, coffee would spill out over the top of the cup and all over a customer's clothes. A few dry-cleaning bills later we moved on to our current hot cup. It's not compostable, but it is certified by the Sustainable Forestry Initiative. So, while not ideal, we are being more earth-friendly with this cup than by using traditional hot cups with no green benefit at all.
We also use compostable cutlery and paper plates, and luckily cold drinks do well in compostable cups.
Retail coffees bags were yet another piece of packaging to address. For years we used PLA-lined compostable, kraft-paper bags. (PLA is the stuff used in corn-based compostable plastics.) These bags work well but aren't sealable and PLA kraft bags present some disadvantages. The biggest is, given average composting conditions, the bags can take years (yes, years) to break down. The other issue with the custom PLA kraft bags is that unless you also use earth-sensitive ink for printing (soy-based, for example), the bags aren't entirely non-polluting.
Over the last year, we have researched other retail-bag solutions and came across the TekPak company that produces re-sealable retail coffee bags made with a material they brand "omnidegradable." Based on early tests, we were satisfied with the seal and the freshness of the coffee after it sat in the bags for a bit, but it remains to be seen how the bags will hold up over the long-term, how they look as a finished custom product, and how great "omnidegradable" really is.
 An occasional "Did you know?" post on Facebook can highlight a green-friendly product you are using in your store.
As important as using eco-friendly products is, so is getting the message out to your customers that you are making efforts to be environmentally sustainable. Social media can always be used as a reminder, in addition to signage in the shop. An occasional "Did you know?" post on Facebook can highlight a green-friendly product you are using in your store. We are lucky to be working with a pilot program through UC San Diego called ProductBio that analyzes companies' practices and products and presents their environmental, social, and fiscal impacts in graphics for consumers. It's not just a great way to show what we're doing right, but to find places we can be better.
Going forward, not everything we try will work in a retail environment. But we have taken on the responsibility to be as sustainable as possible in all facets of our operation. Our company will continue to evolve with the times and experiment as new products become available to aid the ecological betterment of our business.
—Chuck Patton is the owner and founder of San Diego's Bird Rock Coffee Roasters.