Gregory Kolsto says it's best to think of Oddly Correct's coffee bar not as a café but as a tasting room. That helps explain the stripped-down nature of much of the shop, from its décor to its merchandise to its menu. The coffee bar is a showcase for the product, and that means they offer no milk or sugar for their pour-over coffees and their espresso-based drinks have a sole addition, whole milk. Cafés that follow this purist path (detractors opt for adjectives like fundamentalist, absolutist, and snobby) don't risk alienating customers; they guarantee it. Which is why, Kolsto says, they give out quite a few free coffees to piqued customers.
And they convert quite a few people to the glory of black coffee.
This singular focus translates to a bar with a minimum of items. There's no syrup, no honey, no need for a soy-only steam pitcher. Each drink comes in one size, so no need to keep stacks of lids separated. The only real frills come with their pour-over service. The coffee is presented on a walnut board, with half the drink in a mug and the rest in an Erlenmeyer beaker. The presentation, like the café, fits an aesthetic Kolsto calls "hobbit-style": rustic in look but high in quality.
Like a hobbit hole, the café doesn't scream for attention. It resides in the corner storefront of a low-slung art deco building in Kansas City's Midtown-Westport neighborhood. The shop's sign just says "Oddly Correct" and bears a coffee bean as the only clue to its offerings. They opened the café in 2012, plopping it three doors down from their roastery, which opened in 2008. Kolsto says that not long ago the only reason you'd stop in their neighborhood was to get a payday loan, but the area, and the city at large, is coming up.
That's especially true of coffee, and over the past decade the city has become a Midwest outpost of fantastic roasts. That, in part, allows Oddly Correct to take this minimalist approach to their craft. When a customer base has been exposed to great coffee the way Kansas City's has, they're more willing to trust a café's milk-and-sugar decisions. Or, at least, they'll be willing to let the café buy their coffee for them.
A Breakdown of Oddly Correct's Coffee Gear and Bar Workflows
1) Brew Bar: A daily lineup of three single-origin coffees are brewed in Kalita waves set atop Soehnle scales and split between a mug and a lab beaker, both set on a walnut serving board.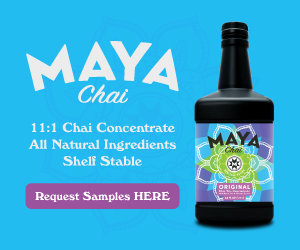 2) Pared-down Pastries: Oddly Correct serves just two pastries: donuts and granola bars. "When we buy coffee, we either go for super classic or super exotic," says owner Gregory Kolsto. "The donuts are super classic."
3) In-house Art: Paintings by Kolsto ring the café. This one, made for a fall seasonal blend called White Whale, shows a former Oddly Correct barista floating on a piece of wreckage, finishing his espresso before going after Moby Dick.
4) Strict Sizes: Each milk drink (even lattes) has a prescribed size and only flat whites (eight ounces) and lattes (twelve ounces) are available to-go. Disposable-cup clutter is minimal.
5) Two-headed Workhorse: A two-group La Marzocco Linea does heavy lifting but Kolsto says line slowdowns are rare.
6) Seasonal Espresso: A seasonal blend is joined by a current single-origin favorite in the Mahlkönig K30 Twin grinder.
7) Coldly Correct: Along with a rotating cold brew, Blenheim Ginger Ale, and La Croix, the fridge holds Hop Toddy, a resinous cold brew.