[I]n 2009, no one had ever heard of a little thing called Instagram. On July 16, 2010, the first-ever photo was posted to the platform, and, unbeknownst to the rest of the world, Instagram forever changed the marketing landscape. 
Today, it's practically unheard of to find a consumer-facing business that doesn't have a profile on the photo-sharing platform. Instagram is the second-most populated social media platform globally, with two billion monthly active accounts and more than half of those accounts following brands. As a network users rely on for researching brands and learning about new products, Instagram has become an integral tool in any marketer's belt.
DropShot photos by Wade McElroy
With all those users, though, comes noise. In 2016, users made 95 million posts every day, and that number has likely grown significantly over the following years. Standing out from the crowd and cultivating followers can be difficult as tastes and trends evolve daily.
Instagrammability is a characteristic that's frequently talked about in the coffee and service industry. A drink can be delicious but may not be Instagrammable due to its straightforward presentation. A café can be homey and welcoming but may not be Instagrammable due to its outdated design. 
But let's zoom out for a second. What does the term "Instagrammable" mean—and what's its value? After nearly a decade of Valencia filters, #cafevibes, and Brooklyn aesthetics, let's assess the platform's effect on the specialty beverage industry and how to cultivate an ephemeral yet deeply impactful Instagrammable moment.
Worthy of Sharing
According to marketing and leadership expert Seth Godin: "For most of us, from the first day we are able to remember until the last day we breathe, our actions are primarily driven by one question, 'Do people like me do things like this?'"
Dayglow
Having people share your brand for you on social media cultivates trust and social proof of your brand. Once they see a post from a friend or an influencer whom they aspire to be like, a person is more likely to see that activity as something they want to participate in.
Creating imagery—whether it's a mural, a unique menu item, or an overall design aesthetic—that people feel is worthy of sharing with their friends, that speaks to how they see themselves, and is eye-catching is what Instagrammability is all about.
"I think that's what just kind of drives people to take out their phones," says Maura Davis, general manager of the FieldHouse Jones hotel in Chicago. "It's like, 'Oh my gosh, I would never expect this. I want to share this with my friends.'"
DropShot is a café located in FieldHouse Jones that features a feast of unexpected imagery. From a spiraling art installation of tennis rackets that weave throughout the space to two massive slot car racing tracks to a wall overflowing with antique board and lawn games, unexpected visual elements can be discovered around every corner.
"Even the murals inside the building get Instagrammed five, six, seven times a day by all our hotel guests," says Davis. "And you're just reaching a much broader crowd."
In Nashville, Tennessee, Good Citizen Coffee Co's. (formerly Stay Golden Coffee Co.) bright, airy, and sleek-yet-fun locations have become photogenic destinations for locals and tourists alike.
Good Citizen partner and director of hospitality Jamie Cunningham explains how Stay Golden's signature look came not from chasing trends or directly trying to make an Instagrammable space but by first thinking of how he and his partners wanted customers to feel:
"We like beautiful things, and that means 'Instagrammable' in some sense when it's beautiful," he says. "The overall design of our spaces came down to culture first. The culture of our business is to be open and inviting…If we could have, our intent would have made it to where you could see the whole space from front to back when you walked in the door. We want things to be open and transparent, and to be inviting. See what the kitchen's doing; that's fun for many people."
By putting culture and hospitality as a top priority, the Good Citizen crew created a naturally welcoming space for customers walking through the door, making it an experience that guests want to share with their friends.
The light walls, pops of color, and lack of barriers create a sense of lighthearted transparency and openness and allow natural sunlight to flood the space, making it an Instagrammer's dream photo location. It's no coincidence that the Good Citizen tagged feed is filled with well-lit shots of signature drinks, menu items, and the space itself.
Everything—from the chic yet minimally presented beverages and marble tabletop backgrounds to the beautifully lush indoor plants and impeccable lighting—makes it easy for folks to take a beautiful photo worth sharing.
Building a Business on the 'Gram
Tracking the actual impact of Instagram on your business can be difficult. Posting pictures out into the void and tracking followers can sometimes seem like a time-consuming task without reward. Still, there can be tangible, real-world benefits to investing in your digital community.
Tohm Ifergan decided that he wanted a different kind of account to set his café and coffee subscription service, Dayglow, apart. He thought that highly-stylized product photography would be a way to distinguish his brand from other companies.
"I wanted to do something that essentially put more focus on the products we're selling. And in this case, the coffees themselves," explains Ifergan. "Our brand is built around a holographic foil [that's] essentially our color. We use that element in our social media, switching off different colors every couple of weeks and highlighting or accenting certain elements of the drinks we're selling or the coffees that are selling that month."
As a result of this method, Ifergan, with photographer Kingston of Vacant House, creates a series of monochromatic images on Dayglow's Instagram account that feature a single product or coffee in front of a brightly colored background.
"That's another reason our palette works: there's a lot of contrast, and so much color fills the space. So when you're scrolling, it pops," says Ifergan. "'Instagrammable,' to me, means anything eye-catching in less than seconds."
Creating unique images is undoubtedly an investment in both time and finances. Dayglow spends roughly 10% of its revenue on marketing, and an entire day each month is spent in the café's parking lot getting the candy-colored images, not to mention the time is taken to edit. Ifergan reports that the efforts pay off, though: roughly one in three customers say they discovered Dayglow through Instagram. The platform has allowed the company to build a global following.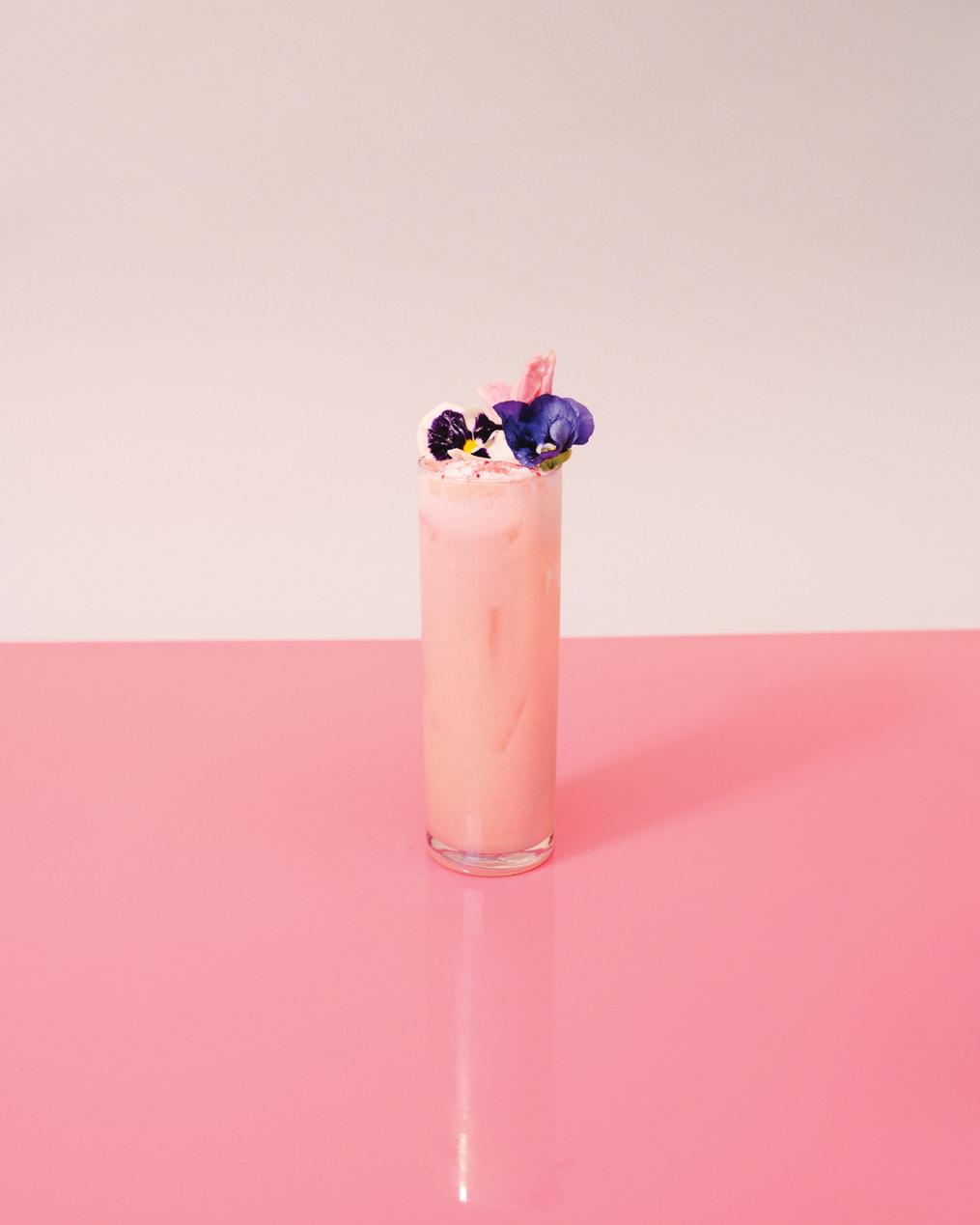 "We had numerous people from places like Russia or Europe or Australia reach out to us or become fans of us because of [Instagram]," says Ifergan. "Being just a coffee shop in a small neighborhood in Los Angeles… It's been cool to connect with people differently, and it's helped us."
Insta Implementation
While it seems as though Instagram has changed café culture, Instagram instead reflects a new way to share an old idea: people come to coffee shops and teahouses not simply for a caffeine fix but to interact with people in their community.
Beautiful and unexpected visuals are cause for people to share their experiences—not only with a friend or two but with their entire digital tribe. Before a patron even enters a shop, an outdoor mural, sculpture, or even unexpected paint color could become the perfect photo op for passersby. Inside, everything from the walls, ceilings, tables, bar top, chairs, floor, equipment, to even the napkin holders are all a blank canvas for owners to create their brand of Instagrammability.
Then there are the actual food, drinks, and products served. Thoughtful presentation of food and beverage, or a beautiful bag of roasted beans to take home, can be another chance for customers to feel connected to a company.
Knowing what culture you want to create for customers is key to developing a space that people want to be in and share with their followers.
Cunningham sums it up nicely: "It's ultimately about connecting with your audience."
This article was originally published on July 31, 2019 and has been updated to reflect Fresh Cup's current editorial standards.